Incentives for 21 new entrepreneurs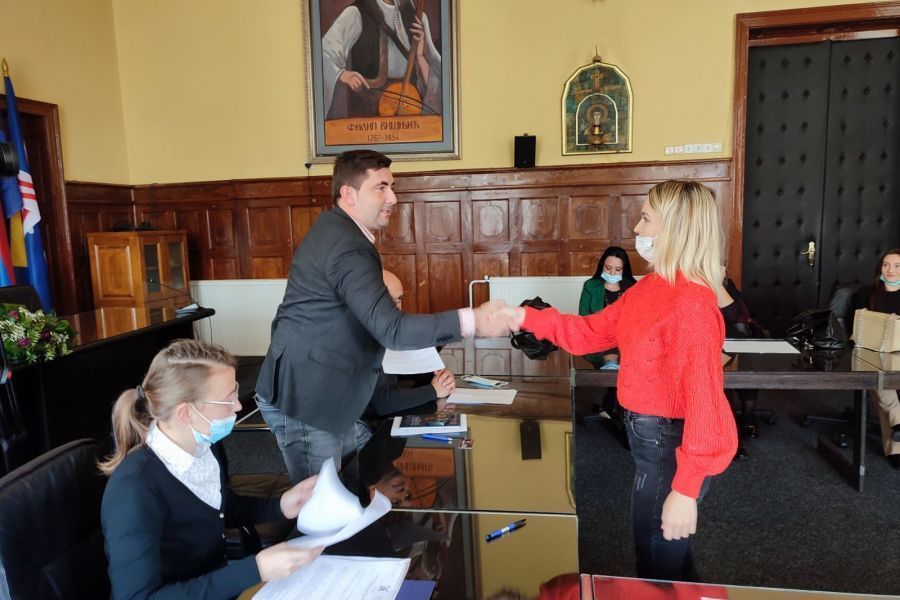 ​Within the 'Programme for the use of incentive funds for the development of entrepreneurship - self-employment', the contracts on award of incentive funds were signed at the City Administration. These funds are intended for self-employment of entrepreneurs in 2021, in the amount of 6,190.40 convertible marks each, for 21 unemployed people who started their own entrepreneur activity.
- In addition to this incentive, assistance for independent entrepreneurs can soon be expected, in order to mitigate the effects of the Corona virus pandemic. This assistance will amount to total of 200,000 convertible marks. In the budget proposal for the next year we plan to propose allocating more money for the incentives for our economy and for creation of new jobs. We want to make an environment which will encourage domestic and foreign investments and increase of employment in the City of Bijeljina. We think that investing in education and economic development is the most profitable investment for our city long-term – pointed out Bijeljina Mayor LJubiša Petrović.
This Programme is funded within the Department of Economy of the City of Bijeljina, on the budget position of Incentives for entrepreneurs on the grounds of concession fees, and it amounts to 130,000 convertible marks.
- When I was young, I decided to start selling clothes for men, women and children, so I opened a shop in Bijeljina. Unlike many of my peers, I want to stay in this city and to realise myself as an entrepreneur and a person. This incentive is a great help in the beginning of this journey, because I will use these funds to acquire basic equipment and goods for sale – pointed out Bojan Lazić from Bijeljina, one of the entrepreneurs who received the incentive.
Željka Bobić and Darka Andrić from Batković decided to open a beauty salon. They say that they will try hard to become successful entrepreneurs in order to justify the support they got from the City Administration.
- These incentive funds are very important for us, because they give us opportunity to start a business on our own. Therefore, we are grateful to the mayor and to the City Administration – added young female entrepreneurs.